7 renewable raw materials make it all possible
Plates, trays, bowls, lids, cutlery, glasses, cups, drinking straws made from renewable raw materials – all no problem for Nature. And no problem for you either: naturesse provides you with a complete range made from renewable raw materials, for endless applications. All items are 100% natural, 100% climate-neutral and 100% biodegradable. We always have 700 items in stock for immediate delivery, allowing you to plan reliably. And if you need anything that's not in our standard range or would like to have your packaging imprinted, we take care of it in next to no time.
Guaranteed climate-neutral
Nature's renewable resources
The basis of all packaging
For the production of our organic single-use tableware, we use residual materials from agriculture, rapidly renewable resources and natural products from sustainable farming. Our naturesse products come from guaranteed fair trade and are 100% biodegradable. That is why each item is marked on the carton with the certification DIN EN 13432 "Keimling" (seedling) and the addition "compostable". This means that, in industrial composting operations under defined conditions, the material degrades to water, carbon dioxide or biomass.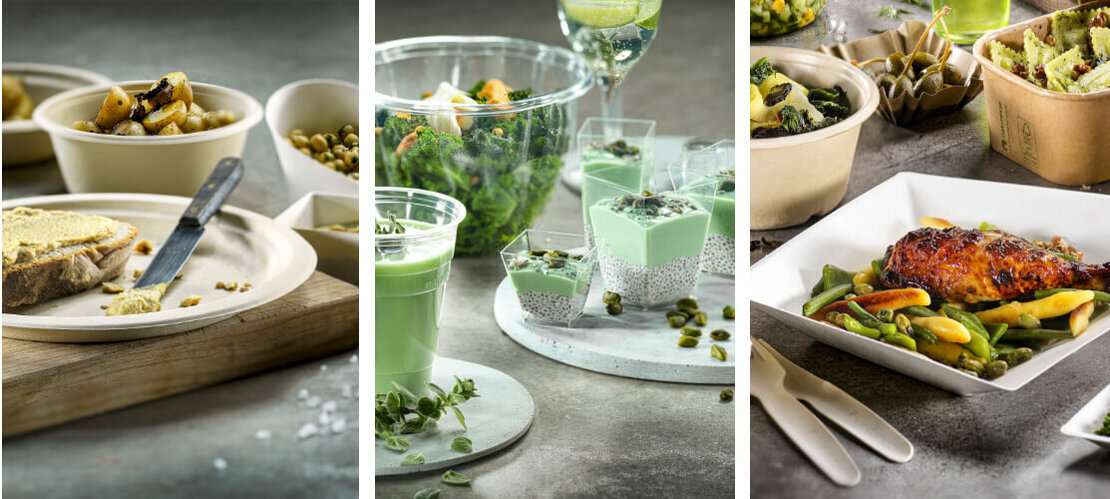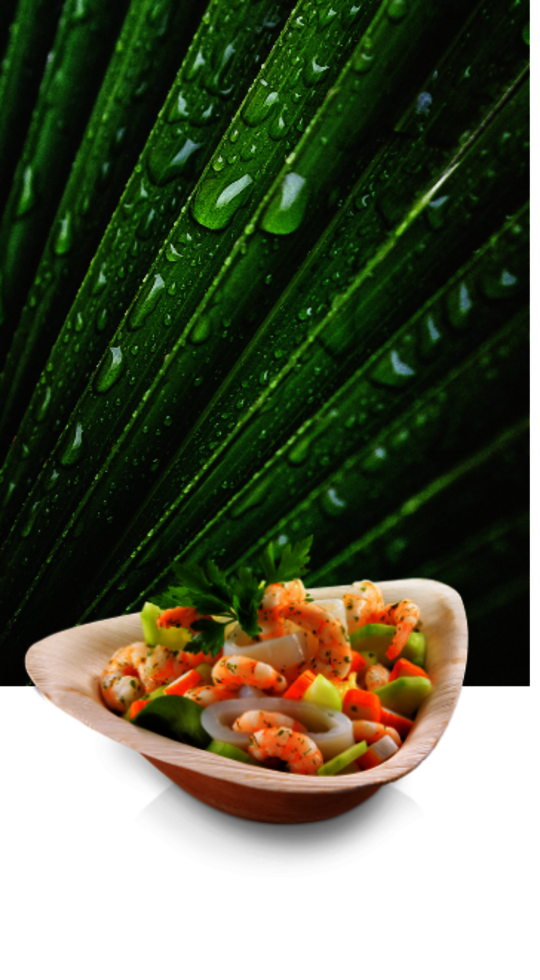 When a palm tree delivers the plates
The green leaves of the betel palm grow at heights of up to 25 metres above the ground. Only when these renewable resources lose their natural moisture and falls to the ground by itself, almost completely dried out, do we process it further directly on site. This means that our palm-leaf tableware is not only 100% biodegradable, but also produced using a climate-neutral process under fair conditions. Growing the betel palm in mixed culture also preserves the soils. Palm-leaf products are ovenproof, food-safe and grease- and water-resistant – without any additives. The particularly elegant style is also the work of nature: thanks to the individual vein patterns of the leaves, each item is utterly unique.
Learn about the origin of our palm leaf tableware in Bantwala Taluk!
---
Keeping the environment sweet
People like sweet things – Nature does too. When sugar is obtained from sugar cane, it leaves behind fibres that are mostly not used for any other purpose. This is the renewable raw material from which we shape the single-use tableware of the future. It is 100% natural, biodegradable and climate-neutral. The stylish products have outstanding properties: lightweight tableware that is nevertheless very robust and even water-resistant. Suitable for cold and hot dishes, it can be used in the microwave, oven and freezer. With bio-lamination providing an additional grease and water barrier, our sealable ready-meal packaging is perfect for the take-away sector.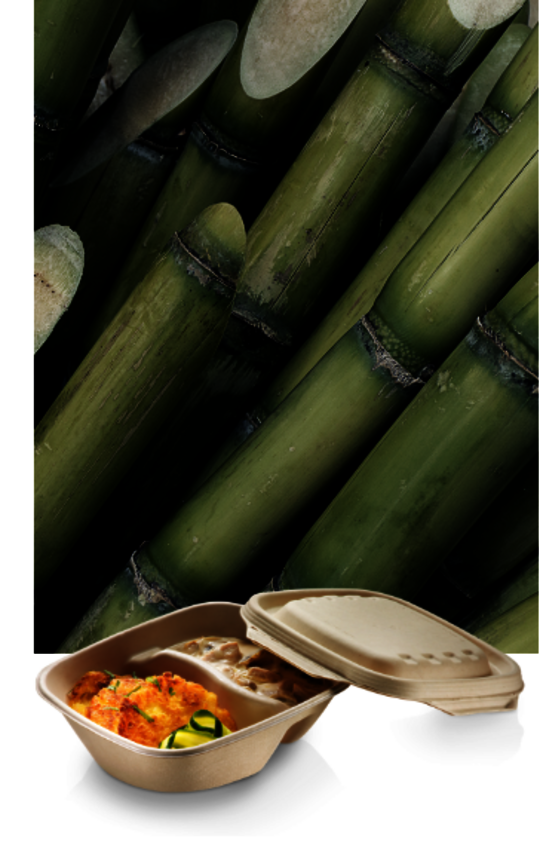 ---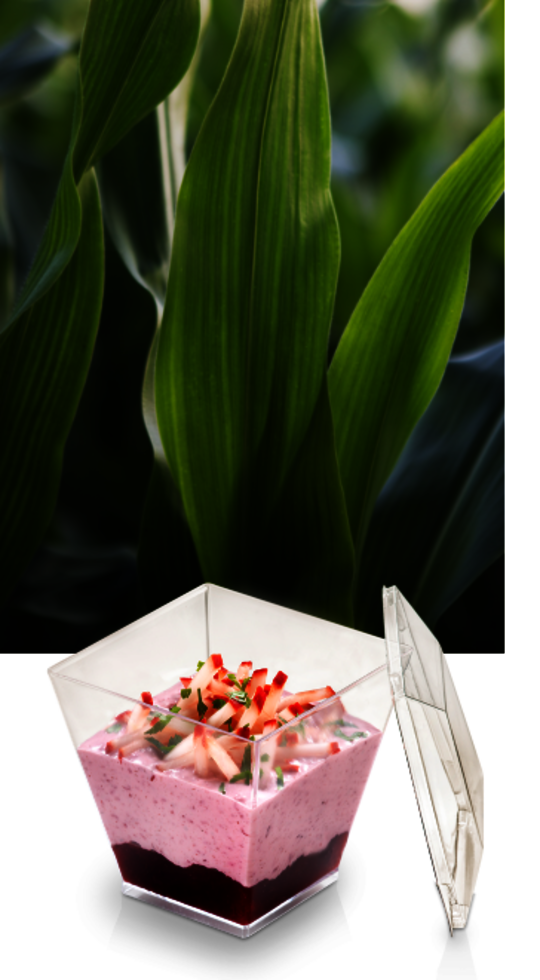 Looks like conventional plastic
Even though you would hardly think so to look at it, PLA products from naturesse are anything but conventional plastic. Instead of being derived from petroleum, an inexhaustible and renewable resource is used: natural lactic acid obtained from starch. And since the starch is extracted from sugar cane, for example, the single-use tableware made from it is a natural, 100% biodegradable and climate-friendly product. Our PLA is highly transparent, sturdy and shatterproof. It can be moulded into almost any shape and even used as transparent film. The products are eminently suitable for cold applications down to -45°C and are lighter than conventional materials – with no compromises in terms of function and stability.
---
Perfect becomes even more perfect
Sometimes an all-round outstanding product can be perfected even further by 'crystallising out' further benefits. A metamorphosis of this nature was possible with the material PLA, that can be crystallised to produce the aptly named Crystallised Polylactic Acid (CPLA). This makes the biodegradable material additionally heat-resistant up to 85°C and extremely dimensionally stable. It also becomes more rigid, so that it can be used to make cutlery, for example, some of which is even reusable. Crystallised CPLA is opaque and, with the addition of colour, is also available in aesthetically pleasing beige or black.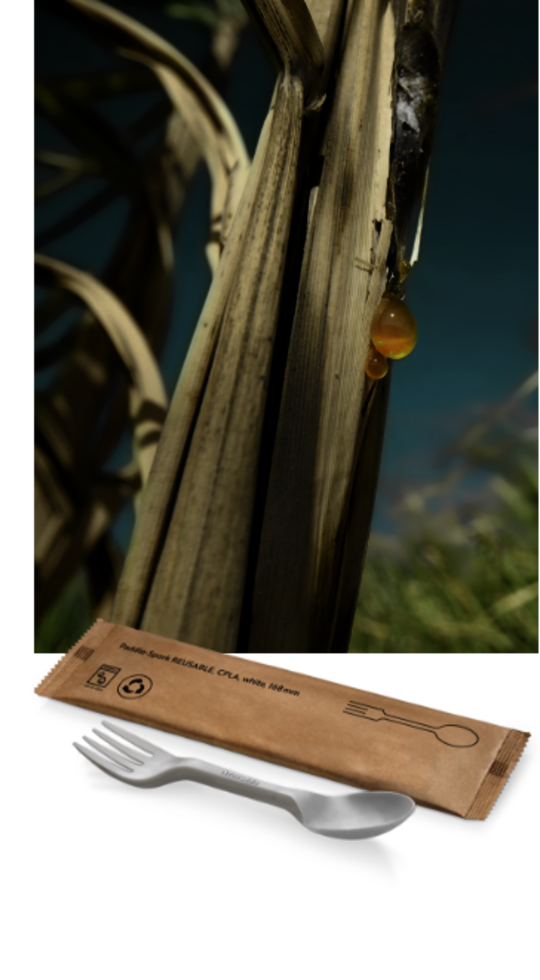 ---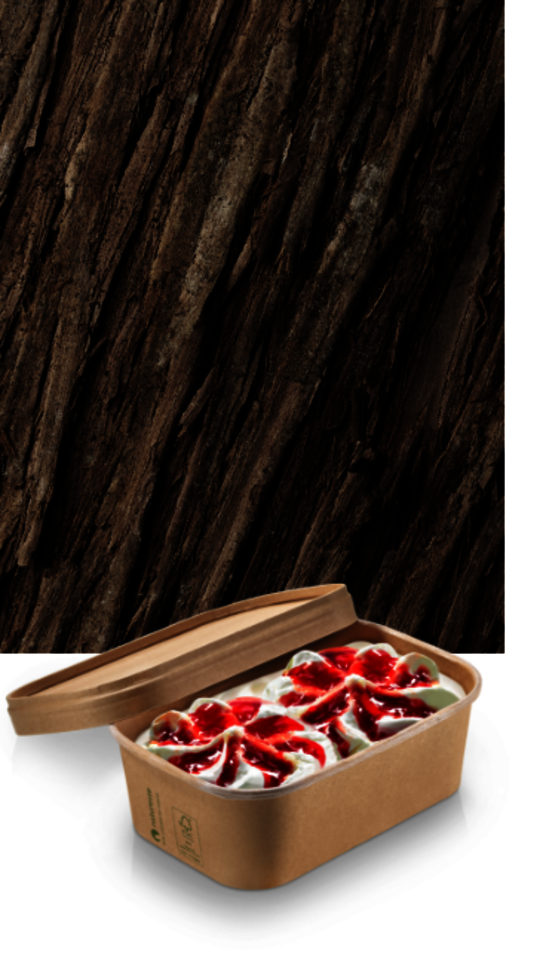 Barking up the right tree
Cellulose is a perfect raw material for the production of natural single-use tableware or packaging. The important thing is where the material comes from! Cellulose from FSC®-certified forests and controlled sources is used in the production of the naturesse biodegradable cardboard range. The FSC® certificate guarantees the lasting protection of the forest including the plants and animals that live in it. An additional PLA layer, such as that used in our paper cups, also makes the products heat and moisture resistant. The use of imprinting opens up endless options for stylish enhancement of the aesthetic wood, cardboard and paper products.
Carved from protected wood: our sustainable cellulose products.
---
Bamboo is a wonder of Nature – it grows extremely fast, and can shoot up by as much as 90cm a day. After harvesting, the stalks simply sprout again, requiring zero pesticides, chemical fertilisers or artificial irrigation. As an extremely fast-growing renewable raw material, it is a wonderful basis for the production of stylish and functional take-away tableware made of sturdy cardboard, without having to chop down a single tree. The sturdy material made of bamboo fibres has a brownish colour; its delicate surface is perfect for imprinting and is nothing short of aesthetically delightful. By the way, the bamboo we use is the Moro variety and not the one that pandas eat, so there's no risk to their habitat. Furthermore, our products with the PaperWise label do not use any wood from trees: they are made of surplus agricultural by-products.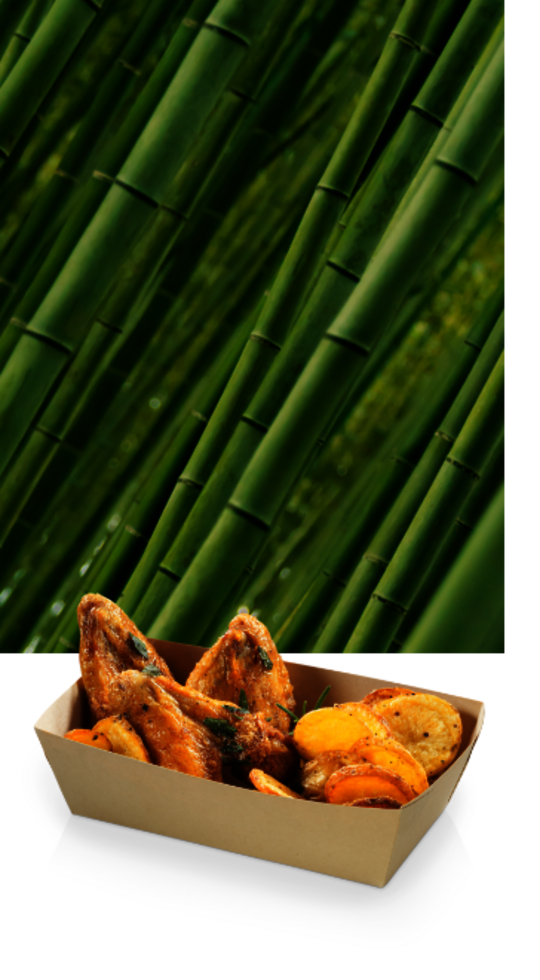 ---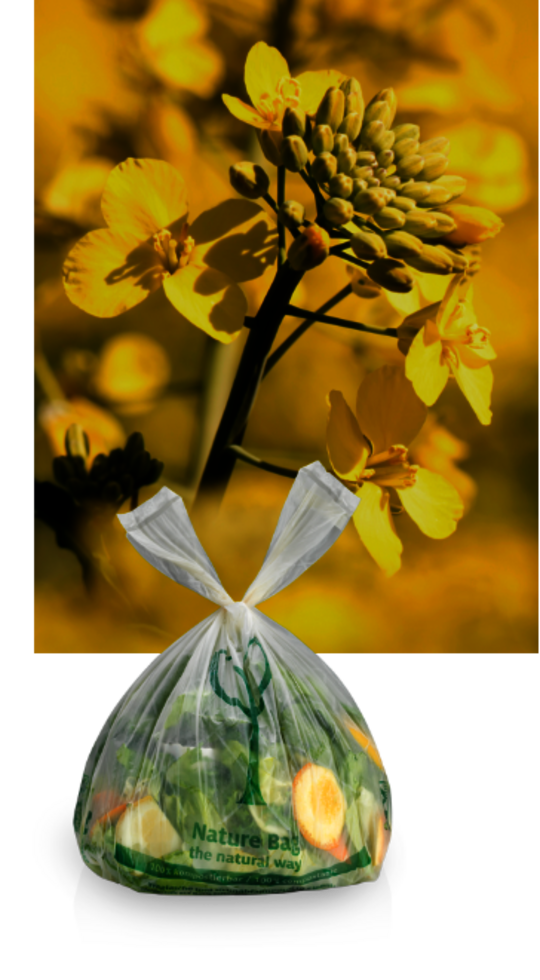 Bags of natural resources
Whether carrier bags, pouches or transparent films – at naturesse we do without conventional plastics and instead manufacture our products from natural vegetable oil and vegetable starch (Mater-Bi). These renewable resources produce compelling results: the products made from Mater-Bi are tear-resistant, very robust and also breathable. The bags and carrier bags can even be disposed of in the household compost. So there's nothing to prevent them being given a second lease of life as a garden waste bag.